Former Google senior executive new CEO of Group Online
Jesper Eiby will take up the position as CEO of the CataCap-owned company on 1 August. He will build on the position as market leader and ensure that Group Online is the natural choice of SMEs in web and online marketing. Jesper Eiby replaces the founder Kenneth Stampe, who remains a significant shareholder.
CataCap established Group Online in 2020 after multiple acquisitions to create the best and largest digital marketing company targeted at SMEs. Since then, the Board of Directors has conducted a very thorough recruitment process in close dialogue with the current CEO and significant shareholder Kenneth Stampe. The choice fell on Jesper Eiby, who has been a manager throughout his career, and was part of Google's management for eight years in Denmark and Northern Europe, which included the responsibility for SME marketing. He previously served as CEO of Clio, which provides digital learning tools to more than 60 markets.
At Group Online, he will lead the company's growth, and he will be responsible for further developing the current organisation and strengthening the company's own technology and software development.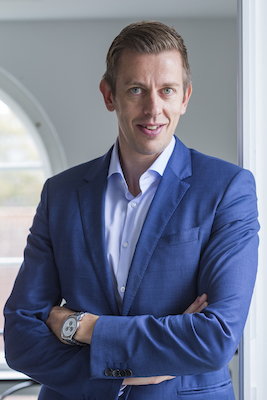 JESPER EIBY
New CEO of Group Online.
CURRICULUM  (excerpt):
2018-2021: Clio
Managing Director
2010-2018: Google
2010-2018: CMO/ Marketing Director, Northern Europe
2008-2010: TraceWorks A/S
CMO / Marketing Director
Training:  MSc in Economics and MBA from CBS
Board member of Loopia Group (owned by Axcel) and DI Digital
Former professional handball player
Chairman of the board, Jens Harsaae, sees the appointment as the perfect match for Group Online: "Jesper Eiby is undoubtedly one of the country's most skilled and experienced leaders in digitalisation, online marketing and transformation. At the same time, he has extensive experience with the digital marketing of SMEs. That's why he's the right person to expand the company's position as a market leader and to ensure that Group Online is the natural choice for SMEs by being the best on all parameters."
Jens Harsaae also highlights the new CEO's personal qualities as a manager: "He has a deep interest for the customers and has proven his ability to develop employees and teams, and make them perform at the absolute top level."
Jesper Eiby was in no doubt when he received the offer: "Group Online gives me a unique opportunity to work with everything I am most passionate about. SMEs, digitalisation and making good employees, teams and companies even better. I am looking forward to, together with the strong Group Online team and the ambitious owners, moving the company to the next level and making a difference for Denmark's SMEs."
Kenneth Stampe leaves the day-to-day management of a company he laid the foundations for back in 2003. He has been involved in planning the CEO change, which he is pleased with: "I will definitely miss the customer contact and all the good, talented colleagues at Group Online. But first and foremost, I am happy and proud. Because I have no doubt that Jesper, as I know from his time with Google, will be a great benefit for both Group Online's employees and our thousands of customers. And I'm proud of the company I've helped build from scratch and now leave to Jesper."
Chairman of the board, Jens Harsaae, thanks Kenneth Stampe for his efforts and cooperation: "It's impressive what Kenneth has created as an entrepreneur and business owner. And on behalf of both the Board of Directors and CataCap, I would like to thank Kenneth for his great and valuable contribution as CEO, and the good cooperation we have had."
Kenneth Stampe continues as a significant shareholder.
About Group Online
Group Online is Denmark's largest web agency and supplier of web design, hosting & marketing. They are a full-service web agency that takes responsibility for the entire process, from web design and development to hosting and marketing, as well as ongoing consulting and servicing.
Since the start in 2003, in humble basement rooms in the heart of Copenhagen, Group Online has experienced a great influx of customers. This means that today the company has +170 dedicated employees who help more than 12,000 customers on a daily basis, primarily small and medium-sized companies.