Press release from Group Online
Largest aqcuisition in the industry: Group Online acquires competitor
CataCap-owned Group Online announces the largest acquisition in the Danish online marketing and web agency industry to date. Group Online has acquired the competitor Web-Koncept and is accelerating its growth ambitions.
Group Online is Denmark's largest online marketing and web agency for small and medium-sized enterprises (SMEs). The company is now growing significantly with the acquisition of Web-Koncept, which has delivered great results since the company was established by Benjamin Jensen and Daniel Thomsen in 2013. Today, it is the country's second largest web agency with 6,000 customers and 80 employees. The acquisition means that Group Online's customer base will grow by 60 percent from 10,000 to 16,000 customers in the SME segment. At the same time, this will mean that Denmark's population visits one of their websites every four hours.
"Daniel and Benjamin have created a very well-run company with skilled employees, strong web skills and, not least, satisfied customers. And Web-Koncept, like Group Online, is passionate about creating success and digital visibility for SMEs. This is why we are a really good match, and with the acquisition the market is consolidated to the benefit of the customers. The rapid technological development in areas such as artificial intelligence places great demands on us, and together we have the necessary muscle power to constantly be at the forefront of development and be able to deliver the best online solutions to our customers," explains Jesper Eiby Christoffersen, CEO of Group Online.
Since Jesper Eiby Christoffersen took over as CEO of Group Online in 2021, the company has focused on strengthening the internal organisation, technology development and organic growth through more and better solutions for customers within online marketing. And now Group Online is stepping on the accelerator and accelerating growth:
"Over the last couple of years, Group Online has been prepared to take the next major leap in growth and establish an agency group that can accommodate various independent companies and business areas. This is happening now – beginning with our Danish home market. I look forward to meet a lot of new colleagues with whom we share values and will learn a lot from," says Jesper Eiby Christoffersen.
Web-Koncept continues as an independent company
Web-Koncept will continue as an independent company in the future because it is a strong brand in the industry and has a high level of customer satisfaction. The two founders Daniel Thomsen and Benjamin Jensen are delighted with the acquisition, which is crucial for the company's continued development:
"We are extremely proud to become part of the Group Online family. This confirms how far we have come since Daniel and I started in 2013. In 10 years, we have gone from being a small, ambitious start-up company to a multi-million business. Constantly driven by growting without compromising on customer satisfaction. And we are confident that we and Group Online can take Web-Koncept to the next level and together make a bigger difference for Danish SMEs," says Benjamin Jensen, co-founder of Web-Koncept.
Refering to Jesper Eiby, the two founders of Web-Koncept will continue to lead Web-Koncept.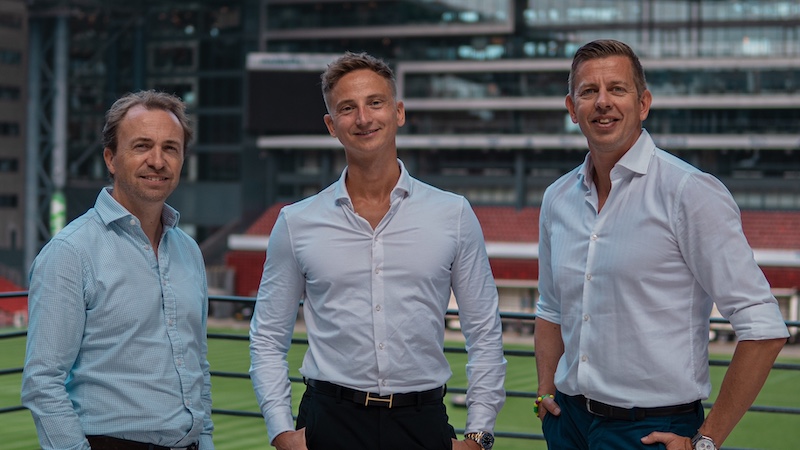 From left:
Rasmus Lokvig (Partner, CataCap), Benjamin Jensen, (Co-founder, Web-Koncept), Jesper Eiby Christoffersen (CEO, Group Online).
Photo: PR
About Group Online
Group Online is Denmark's largest online marketing and web agency
With the acquisition of Web-Koncept, Group Online will add 6,000 customers to its customer portfolio and 80 additional employees. Consequently, Group Online will have 16,000 customers in the SME segment and 280 employees
Group Online has offices in Ballerup, Aalborg, Aarhus and Odense
In 2019, the Danish private equity fund CataCap acquired the majority of shares in Group Online
CataCap also has REKOM, Nordmark and Luxplus in its portfolio and has exited companies such as CASA, GSV, Lyngsøe Systems and LanguageWire
About Web-Koncept
Web-Koncept is Denmark's second largest online marketing and web agency
Established in 2013 by the two founders Benjamin Jensen and Daniel Thomsen – with 6,000 customers and 80 employees in 2023
Marathon-gazelle company and winner for 4 consecutive years and one of the fastest growing online marketing and web agencies in recent years
Web-Koncept has branches in Ballerup, Aalborg, Aarhus and Odense
About Jesper Eiby Christoffersen
Jesper Eiby Christoffersen has been CEO of Group Online since August 2021 and is now also a board member of DI Digital – an industry company at Dansk Industri.
Following the acquisition of Web-Koncept, Jesper becomes CEO of Group Online, Web-Koncept and the Group as a whole.
Jesper has been a leader throughout his career. Before joining Group Online, he was CEO of the Danish edtech company Clio, which supplies digital learning solutions. Prior to that, he was part of Google's management in Denmark and Northern Europe for eight years – responsible for – among other areas – SME marketing.